WHAT IS A DENTAL IMPLANT?
Dental implants are considered one of the most permanent solutions for missing teeth. Natural in appearance, an implant become fully incorporated into the mouth's structure producing long-lasting, attractive results.
A titanium implant is fixed into place, creating a stable and solid foundation for an artificial tooth. This treatment can be used to replace one or several missing teeth. In advanced cases of tooth loss, implants can even be used as a jaw replacement option.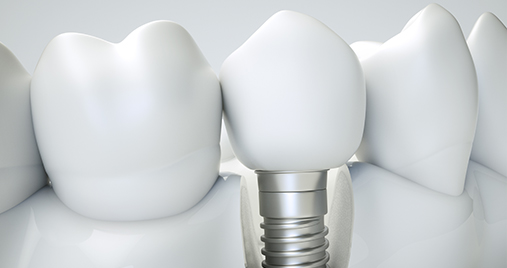 Whereas dentures can slip out of place and may require ongoing adjustments, implants are embedded into the jaw bone and form part of the mouth's internal structure. With bridges, the surrounding teeth require considerable preparatory work, similar to crowns and veneers.
Titanium is used as this metal bonds easily with the jaw bone. Once the screw has been embedded into the jaw, it may take up to six months to heal completely. At this stage, the patient will be fitted with the artificial tooth or teeth.
At the Advanced Referral Centre, our dentists are experienced and knowledgeable within this field of prosthodontics and can offer advanced, state-of-art treatment to patients requiring complex restorative procedures or those with poor quality bone structure.
SUITABILITY FOR DENTAL IMPLANTS
Largely considered one of the more expensive tooth replacement options, implants offer patients the chance of a life-long solution to their missing teeth.
Prior to this treatment option being taken, our dentists will consider other possible tooth replacement solutions and discuss these with the patient.
If implants are chosen, a thorough examination will be carried out to assess suitability. As well as the standard x-rays being taken, patients may also require a CT scan. Bone mass, bone atrophy and the condition of any remaining natural teeth will be incorporated into the initial assessment.
Commonly, patients are treated under local anaesthetic for implants, however intravenous sedation can be offered to patients who feel overly anxious about the procedure.
TYPES OF IMPLANT TREATMENt
The Advanced Referral Centre offers the following implant treatments
Complete assessment for patient suitability
Implant placement
Implant restoration
Bone graft and Regeneration
Sinus Lifts
All on 4
Implant Overdentures