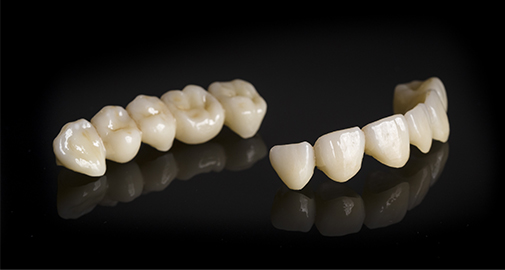 What is Prosthodontics treatment?
Prosthodontics is a dental discipline concerned with replacing missing or damaged teeth with artificial prosthetics and implants. The prosthetics are natural in appearance and tooth-coloured to blend in with the patient's remaining teeth.
The aim of a prosthodontist is to create a natural, functional smile for patients who have been affected by the loss of teeth, whether due to general wear, decay, a previously failed dental procedure or any number of other reasons.
It is usually reserved for the most challenging types of cases and can help restore a patient's confidence and self-esteem, both of which can be severely hampered by gaps in the mouth or ongoing oral discomfort.
As well as undertaking additional prosthodontic qualifications, our team is experienced and focused on performing complex restorative treatments as well as the more basic replacement of one to two missing teeth.
TYPES OF TREATMENT
There are a number of treatments our prosthodontists at the Advanced Referral Centre can offer. These include (but are not limited to) the following:
Implants – a titanium screw is embedded into the jaw bone to act as the artificial tooth's new root. After a period of healing, a prosthetic is fixed onto the implant, filling any dental gap or gaps
Veneers – a porcelain or ceramic resin which is bonded to the natural tooth, restoring damage as well as creating an improved aesthetic
Complete or partial dentures – removable or fixed appliances can be created specifically for the patient to restore functionality and appearance
Crowns – a 'cap' made of durable materials such as ceramic or metal is used to cover the top of a damaged tooth
Bridges – restoring gaps between teeth, bridges are supported by adjacent natural teeth dependent on their condition
Treatment for temporomandibular joint (TMJ) problems
Before deciding on the most suitable treatment, a prosthodontist will carry out a thorough examination taking a number of factors into consideration. These include a patient's smile line, the gum line, tooth proportion and vertical symmetry.